Big Button Telephones
Large Button Telephones are often bought for users with vision impairment, dexterity problems, or who just want a easy to use phone. While the large buttons are the main selling point there are other features that should factor in the decision of which Big Button Telephone to purchase.
White on Black?
It is easier for those with vision impairment to read White Text on a Black Background. This means that Black Buttons with White Text are easier for persons with low vision to read.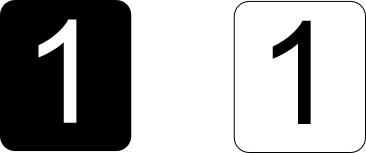 The value of the higher contrast of White on Black is especially important to remember when looking for a phone for someone with Glaucoma or Macular Degeneration.
Style of Numerics
When looking for a big button phone to help with vision impairment it is important to consider the style, or font, of the numerics on the buttons. The higher contrast the numerics the better.
1 2 3 4 5 6 7 8 9 0
ABC DEF GHI JKL MNO PQRS TUV WXYZ
1 2 3 4 5 6 7 8 9 0
ABC DEF GHI JKL MNO PQRS TUV WXYZ
1 2 3 4 5 6 7 8 9 0
ABC DEF GHI JKL MNO PQRS TUV WXYZ
1 2 3 4 5 6 7 8 9 0
ABC DEF GHI JKL MNO PQRS TUV WXYZ
The importance of contrast is sometimes overlooked in favor of size but scripts with high contrast have better visibility even if slightly smaller.
Backlit Keypads
Many Telephones feature Backlit Keypads that illuminate numerics in low or no light situations. This feature is particularly handy for cordless and cellular phones, though many corded telephones also have backlit keys.
Talking Keypads
Some Big Button Telephones have an optional talk-back keypad feature that reads back each number as it is dialed, this handy feature helps to prevent misdialing before a wrong number is dialed.
Braille Keypad
Some Large Button Telephones feature Braille numerics to allow the Blind to still dial numbers on the Telephone.
The Clarity JV35W Braille Telephone also features talk-back dialing, voice amplification, emergency features, and more.