Emergency Telephones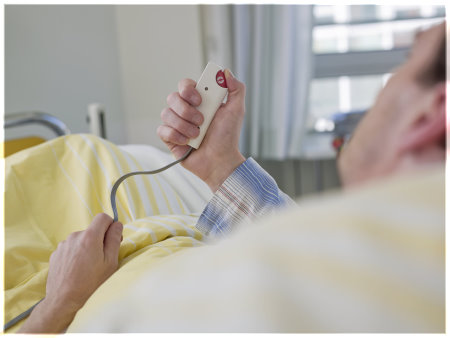 There are many Emergency Systems that rely on a subscription service but most Emergency Telephones share a variant of the same system; when the user presses an emergency button preprogrammed emergency contact numbers are dialed, such as family or friends, and the process is repeated until a set number of cycles is reached or someone picks up. From Telephone to Telephone there are differences in how this feature is implemented; some play a pre-recorded message, some come with wireless emergency transmitter units, and some Emergency Buttons must be held for five seconds.
Most 'Emergency' Telephones come with wireless transmitter units, store a large number of preprogrammed numbers, and spend more cycles calling through the numbers. 'Emergency' Speakerphones are also available, sharing many of the same Emergency features but without the standard phone handset. Many amplified phones also have some Emergency features and a few Cellular Phones also have Emergency features, often with an added texting feature.
The Geemarc Ampli600 has another Emergency Feature, a remote answering system that allows concerned caregivers to dial in and activate the speakerphone with a code so they can hear what's happening.
Wireless Transmission
Wireless Transmission is affected by factors such as the structure of the building, thickness of walls, steel piping, and so on. So while the manufacturers of Emergency Phones may quote one working distance for a Wireless Transmitter this is usually the distance that reception will be received regardless of mitigating factors. In some circumstances, Transmitters will still function at 4x the listed working distance so it can be benefical to test out the working distance under local conditions.
Geemarc Ampli600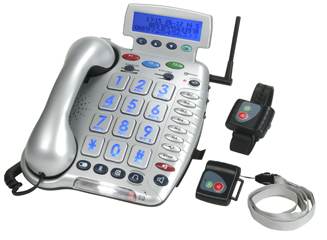 The Emergency Auto-Dialing Feature of the Ampli600 can be activated through a button on the phone itself and through buttons on remote emergency transmitters. The Ampli600 also features a 'listen in' system that allows caregivers to dial in from the outside and hear what's happening through speakerphone.
Auto-dials up to 6 emergency numbers in sequence when one of the 2 waterproof remote emergency transmitters is pressed
Calls can be answered using the remote emergency button
Recordable outgoing emergency message
When the caller identifies themself (PIN number), automatic answering function that switches on to speakerphone
Adjustable amplification up to 50dB.
Automatic Tone control
Outgoing speech amplification up to 12dB
HelpSignal Auto-Dialer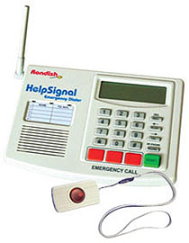 This auto dialer opens up a two-way voice communication channel between the person at risk and the caregiver who receives the call. Dialer automatically dials up to 4 numbers of relatives, friends, neighbors or professional caregivers when the convenient wireless help button, worn as a pendant by the person being monitored, triggers the system.
Once connected, a personal pre-recorded 20 second message giving caller information such as name, address and contact telephone number, is played. After, the channel remains open with a speakerphone allowing the caregiver to talk to the user and ascertain the nature of the caller's condition. The Emergency Auto Dialer may also be triggered from the main unit by pressing any one of the 3 orange "Emergency Call" buttons below the dial pad. The dialer buttons are large and suitable for sight impaired, and disabled people with limited hand movement.
Auto-dials up to 4 emergency numbers in sequence until the call is answered.
Auto-Dials up to 15 times if the call is not answered.
Recordable outgoing emergency message.
Can be used as normal Speakerphone.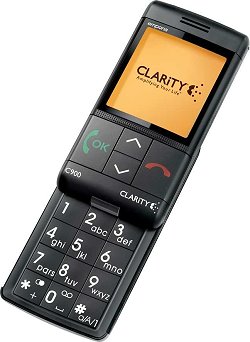 Clarity C900
Sunken on the back of the C900 to prevent accidently activation is a large Emergency button. When activated, the Emergency button will call and send text pre-written messages to five pre-programmed numbers.
Simple, easy to use wireless phone.
Amplifies incoming callers' voices up to 20 dB.
Large backlit buttons for easy dialing.
Large backlit screen and text size.
Emergency button on the back of the phone will call and send text messages to five pre-programmed numbers.
Built-in flashlight.